About the program
YSL beauty commits to funding academic research, training its employees, and educating 2 million people by 2030 on Intimate Partner Violence through  partnerships with non-profits Organizations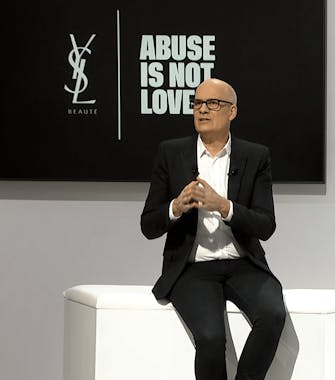 YSL Beauty created Abuse is Not Love in 2020 to prevent and fight against intimate partner violence, a global issue experienced by 1 out of 3 women in their lifetime. This staggering statistic shows that IPV continues to be a major societal issue where even today, only a small portion of survivors will obtain justice.
What we do
Educating Educating Educating
Training Training Training
Publishing Publishing Publishing
Abuse is Not Love
Educating
At least 2 million people on the common signs of IPV through international non-profit partnerships.
Training
YSL Beauty employees and beauty advisors to better understand abusive behaviours and available resources.
Publishing
Important academic research on the topic to develop thought-leadership around youth and prevention.
Thought leadership
The brand aims to have a long-term impact on the fight against Intimate Partner Violence through contributions to research studies on youth and prevention.
The published findings on barriers to prevention of IPV are an aim to open-source full industry collaboration against this crime.
PDF

Intimate partner violence is a workplace issue

YSL Beauty first academic research paper published by Harvard Business Review about why organizations should care about IPV and how to help if you are a manager yourself.

PDF

INTIMATE PARTNER VIOLENCE EXPERIENCES WITHIN THE LGBTQIA+ COMMUNITY

YSL Beauty new global research focuses on understanding abusive relationships within the LGBTQIA+ community.
Partners
A collective movement in the fight to solve this global crisis
For informations and support
If your partner isolates you from your friends and family, do you think it's a sign of abuse?
493 000 People have been trained to recognize the signs of abuse
Want to talk? Contact your local association
Want to talk? Contact your local association
Non-profit organizations around the world can offer support services depending on your market and your needs. If you or someone you know needs immediate assistance, please call the police or a local organization to provide assistance. You are not alone.